Mastering Multiplication: A Comprehensive 30x30 Multiplication Table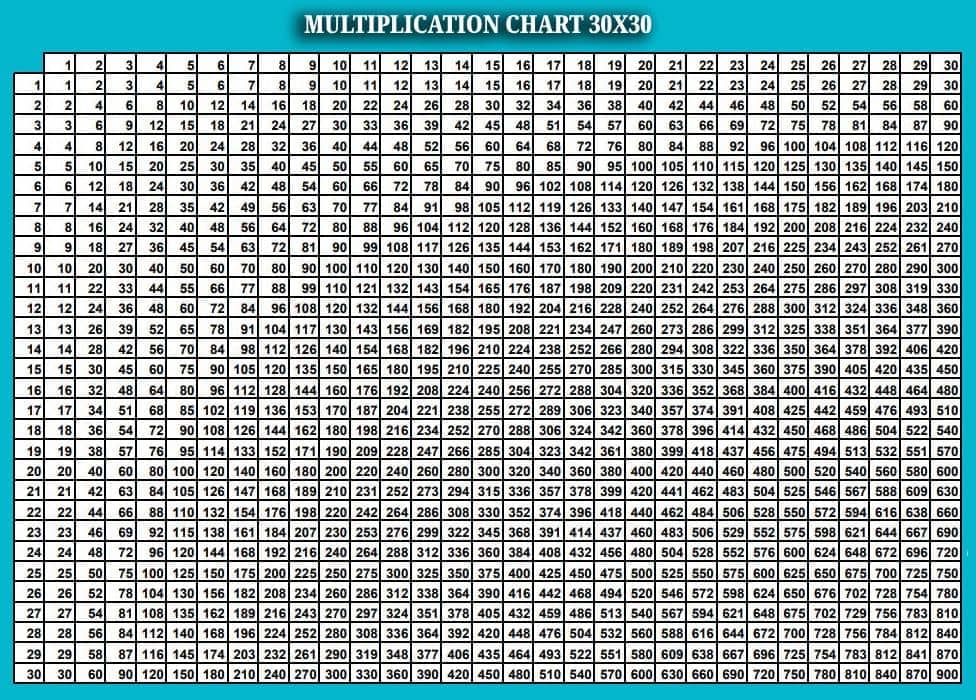 Multiplication chart 30x30 printable: In search of a charming, freely available multiplication chart printable from 1 to 30? Your quest ends here!. Unearth a treasure trove of printable multiplication grid templates from 1 to 30. Available in classic monochrome and an array of vibrant hues.
Leveraging a 30x30 multiplication table unveils an impressive gateway to delve into intriguing patterns beyond the elementary 1-12 or even 1-15 multiplication facts. This downloadable PDF emerges as a phenomenal instrument, especially for budding middle-school scholars, keen to amplify their multiplication prowess.
Diversifying Multiplication Learning: A Look at Printable Multiplication Charts 1-30
Multiplication, a vital skill not only confined to the school premises, has wide-reaching applications in daily life. As such, multiplication charts serve as indispensable learning aids. Empowering children to grasp multiplication tables early and laying a solid mathematical foundation.
These charts translate to be an extraordinary visual guide for both parents and teachers, facilitating kids in tackling mathematical problems. while incorporating the learned concepts into a wider mathematical scope. The blank chart templates convert learning into a fun-filled endeavor, almost mirroring the enjoyment of math games!
Feel free to print a multitude of copies and employ them as a potent educational resource, be it for homeschooling or conventional classroom instruction.
Multiplication chart 30x30 printable at Your Fingertips: Free for Times Tables 1-30
Every chart is readily downloadable in PDF format. Strategically placing these multiplication charts in a child's room or classroom wall permits easy reference during school days. As a visually stimulating reminder, they serve as an exceptional learning aid, subtly engraining multiplication facts into the young learners' minds.
Bibliografy: Llavero de tablas de multiplicar